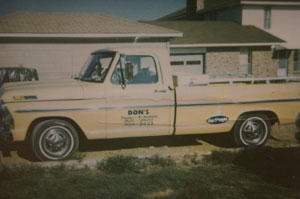 Trotter Air Services, LLC was founded in Plano, Texas in 1970. A family owned and operated business for over 50 years we specialize in heating & air conditioning repair, service and replacement. After serving our country in the Army, Don Trotter started a business to support his growing family. This eventually turned into a multi-generational company with the addition of Don's first son, Sean, followed some years later by Sean's son, Chris. Throughout the last 50 years, over 10,000 Bryant home comfort systems have been installed into homes all across North Texas by Trotter Air Services, LLC As one of the few family-owned businesses still around today, we have been honored to build lasting relationships with multiple generations of families in our community. We are leaders in our industry as Bryant Factory Authorized Dealers; NATE certified technicians and installers and qualified Healthy Air & Puron Refrigerant Specialists.

Bryant, one of the industry leaders in providing home comfort solutions, has nominated Trotter Air Services, LLC twice for their most prestigious award: their Medal of Excellence Award, which is their "Dealer of the Year" award, once in 2006 & again in 2007. This particular award is an annual designation that recognizes top dealers for improving their overall business practices and for excelling in the marketplace. Only 15 out of about 4,000 companies in the U.S. and Canada are chosen each year for this prestigious award. In addition, we have had the honor of earning Bryant's Circle of Champions award for 8 consecutive years, (2012, 2013, 2014, 2015, 2016, 2017, 2018 nd 2019), for overall Bryant-branded product sales growth, high-efficiency and indoor air quality equipment sales, customer satisfaction and participation in various dealer programs and promotions.
Here at Trotter Air Services, LLC we strongly believe in educating our customers on many different aspects of the industry from new products to refrigerants to SEER rating changes over the years, among other relative issues within our industry. We help our customers understand what their choices are on the products in our industry so they are able to "spend their money wisely". The basis of our entire philosophy is: "We put forth the time and effort to treat all of our customers like family".
Consistent with our mission to provide homeowners with high-quality comfort solutions, we exclusively offer air conditioning systems with aluminum evaporator coils that prevent formicary corrosion due to regional weather conditions and indoor airborne contaminants, which are known to cause failure to indoor coils. We also are leaders in offering Indoor Air Quality products to keep our customers' homes clean and free of harmful contaminants, viruses, and pollen which can reside inside their homes.
All of this would not be possible without many years of great work ethics, a little bit of "blood, sweat & tears" and an abundant amount of dedication to our work to be able to bring our customers the service and satisfaction they deserve. We are very excited to continue these great traditions here at Trotter Air Services, LLC